AC Inspection: How Mr. Holland's Finds What Others Don't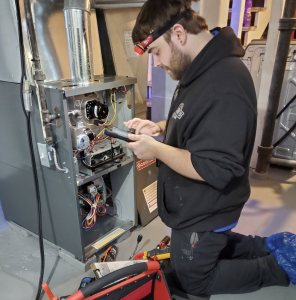 You may not have "schedule air conditioning inspection" on your to-do list but trust us—when that summer heat rises to sweltering triple digits and your air conditioner suddenly fails, you're going to wish you had.
So, why pay for regular maintenance on your home cooling system?  We always say that air conditioners are much like cars. They require tune-ups to ensure optimal performance, and if you don't keep on top of it, one small problem might lead to another!
The technicians at Mr. Holland's Home Services work with every brand of AC unit and are just a phone call away to make sure your system is ready to withstand this summer's heat and humidity.  But we're getting ahead of ourselves, so let's dive into what exactly a comprehensive inspection is.
WHAT IS AN AC INSPECTION AND WHY DO YOU NEED ONE?
Regular inspections and routine maintenance of your air conditioning system will ensure that your air conditioner performs the way you want it to—and, frankly, need it to.  A good rule of thumb is to schedule an inspection once a year, typically before the season starts and your system is put to the test. These AC inspections cover a wide range of elements in your system: from the thermostat and blower to airflow and the condition of your condenser, just to name a few. A technician's checklist should look a bit like this:
Cleaning the outdoor and indoor units
Checking the refrigerant level and charging as needed
Checking and replacing the filter
Inspecting all electrical controls and wiring
Running a general system test
You might be thinking, "This all sounds great, but what exactly is someone going to find during these inspections?" Thanks for asking!  Let's pop the proverbial "car hood" and dig into what these routine tune-ups might unveil.
COMMON PROBLEMS FOUND DURING INSPECTIONS
One of the most common issues discovered during an AC inspection is dirty filters. As clean air enters your home it passes through filters that catch unwanted elements; over time, these filters become clogged. The more clogged the filter, the less efficient your air conditioner functions. Some systems have programs to alert you when it's time to replace a filter, but it's best to check on it yourself or with the help of a professional during a routine visit.
Homeowners often notice that something has gone haywire with their system when their thermostats malfunction or there are inconsistent or imbalanced zones where the temperatures do not match up from one section of the home to another. Leaking refrigerant from a loose coil can cause your AC to blow warm (or even hot) air—and nobody wants that!
Air conditioning systems are complex and with that complexity comes the risk of corrosion of coils or loose electrical connections, which can lead to shortages or even small fires.  And small fires can lead to bigger fires! Safety for your family and your home is the number one priority of every comprehensive inspection.
BENEFITS OF A PROACTIVE AC TUNE-UP
On the flip side, a healthy AC system means a healthy home.
While you may be hesitant to spend your budget on "routine maintenance," regularly scheduled inspections will save you money on energy bills in the future. It's true! Going back to our car analogy: it costs you a lot more to replace a worn down or broken engine, for example, than it costs to maintain clean filters and fresh oil for your vehicle every few months. Small clogs, minor leaks, or inconvenient electrical issues inevitably lead to larger, more expensive repairs. There's just no getting around it!
Finally, your air conditioning system is a valuable part of your home, and scheduling regular inspections protects your investment and prevents unexpected emergencies. You want your AC to work when you need it to—that's its whole purpose, after all!
THE MR. HOLLAND'S HOME SERVICES DIFFERENCE
When we named ourselves Mr. Holland's Home Services, we meant just that: service.  Not only do we hire veterans—who know a thing or two about serving others—it is our genuine pleasure to serve Southeastern Wisconsin. When it comes to our air conditioning inspections we do things a little differently: with "white glove services", to be exact.
Our white-glove services are intended to go above and beyond. Our professional technicians will take the top off of your unit, wash it from the inside out, clear any debris from the bottom, service all electrical connections, wipe down the contactor bottom, and clean any control boards. We are there every step of the way and you don't have to do or touch a thing.
Every inch is inspected, cleaned, and replaced, leaving your AC unit in better shape than when we arrived.
So, what are you waiting for? Schedule your comprehensive air conditioning inspection today!