Local Wisconsin Plumbers Offer the Highest Quality of Service. Here's Why…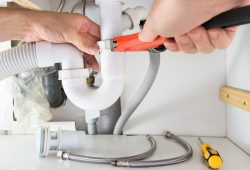 Mr. Holland's Home Services has been in business for more than 25 years and since our humble beginnings, we have grown to provide the highest-quality plumbing services in Milwaukee and its surrounding communities. 
So, why call us?  What makes our work different?
We get asked this question all of the time and, frankly, we aren't usually comfortable with bragging. We firmly believe that "actions speak louder than words" but with a little humility, we'd love to show you what sets Mr. Holland's apart from—and, if we're being honest, above—the rest.
OUR MISSION, OUR VISION
Since 1997, Mr. Holland's has been on a mission to provide plumbing (and HVAC) services that are unmatched in Southeastern Wisconsin. How have we done it? Our promise to our customers:
"We are always on time, never late, the customer can't lose, 100% satisfaction."
We envision and deliver plumbing services that leave customers with a positive experience, one that feels valuable, memorable, and rewarding. It's the vision that drives our mission, every service call, every single day.  
OUR PEOPLE
The difference for any company, especially one in the service industry, is the folks behind it!  Our people ARE our company at the end of the day, and Mr. Holland's believes in both our team and our work family.
We employ some of the finest, most considerate, caring, and respectful professionals in the business. And when we say professionals, we mean it: We invest heavily—both time and money —into training our plumbers. Our training budget is larger than most of our competitors' entire marketing budgets! Because we know that when you invest in people, they will invest themselves into their work, delivering outstanding service to the customer.
We are also a company that proudly employs veterans and no one knows more about service than a veteran. This leads us to—
OUR SERVICE
Our founder, Steve Holland's father served in the U.S. Army in Korea and his father-in-law served in the U.S. Navy. Both men helped Steve kick start his career in HVAC and Plumbing.  More than a quarter of a century later, service is at the heart of what we do.
Supporting our military is a pillar of who we are and we mirror our work after their dedication and commitment.
OUR PERSONAL RESPONSIBILITY
Do you know what else sets us apart? Personal responsibility. Have you ever had an issue and spent hours on the phone chasing down an evasive customer service rep? That will never happen at Mr. Holland's Home Services.
Let's keep this simple: if you aren't 100% satisfied with your plumbing service, we'll make it right! No excuses, no complaining, no baloney. Our goal with every service call is to leave the customer feeling happy, valued, and with plumbing that works as it should.
OUR INVESTMENT IN THE COMMUNITY
At Mr. Holland's Home Services, we care about more than just your plumbing—we care about people. When you call us, we know that you are facing real-life problems—be it a broken pipe, a major leak, or a minor ill-timed inconvenience. We are here for our community and, more than anything, we are here to help. We believe that change starts at home and we hope our service makes Southeastern Wisconsin—and this world—a better place.
YOUR PLUMBING NEEDS
If your sink, shower, drain, or toilet is giving you trouble, you deserve the highest quality service to make things flow the way they're supposed to. The question is always, "What plumber should I call?"
We'll leave that decision to you. However, we humbly—and honestly—believe that we are the best plumbers in Southeastern Wisconsin. If you agree that "actions speak louder than words," give us a call and see for yourself!