What is a sewer jetting?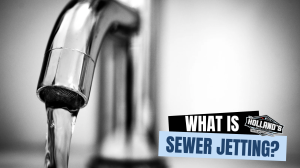 Whether it's grease, waste, debris, roots, or sludge, at some point your sewer pipes are going to get clogged up and not drain as well as they used to. Drains that just won't drain, can cause all sorts of nasty smells! If you have had a drain-clearing service but the drain keeps backing up or won't drain, it may be time to consider a high-pressure water jetting service. (Read more about signs your sewer may need a hydro jetting: https://www.mrhollandsheatingandair.com/plumbing/hydrojetting/)
What is a sewer jetting? A sewer jetting is when a plumber uses powerful blasts of water to blast away debris and anything stuck in the sewer line without damaging anything. Our team is able to clean anything and everything out of your pipes, even tree roots! It's just that powerful! Here is a quick guide to our sewer jetting service: 
We use a camera to find the part of your drain that is badly blocked.  
We put our flexible, high-pressure jetting device down the drain at the point of the blockage, getting into difficult-to-reach areas you'd never be able to tackle by yourself.  
It springs into action and instantly clears away all the blockages for you, leaving the pipes gleaming and working like new.  
It even clears the loosened debris and washes away with the water!  
Can you do sewer jetting on your own? As much fun as it might be to pressure wash your drains, it's best to leave it up to Mr. Holland's plumbing professionals. Our team takes a special camera throughout the sewer line to fully identify where the clog is. We take before and after video footage of the entire process.  
If you're done dealing with the annoyance of clogged drains in your home, give Mr. Holland's Home Services a call! Our team of plumbing experts are here to help! (866) 992-1717