This Summer's Hottest Home Upgrades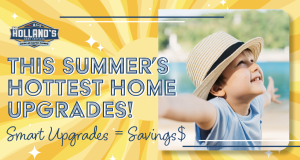 Have you been wanting to make HVAC, Electrical, or Plumbing upgrades to your home? Now is the time! But we want you to kick your feet up, relax, and enjoy this beautiful weather. Leave it up to our team of experts at Mr. Holland's to do all the work for you! Our team has the skills and experience to tackle any home improvement project you have in mind, whether it's upgrading your AC system, installing a new water heater, or rewiring your electrical system. We take pride in providing top-quality services at competitive prices, so you can enjoy a stress-free home renovation experience. 
Hottest Electrical Upgrades
Upgrade & replace outdated and worn-out outlets and switches. Take it a step further and upgrade your home's service panel to improve power, and safety, and prevent electrical fires.
Upgrade your lighting fixtures with energy-efficient LED bulbs to reduce your energy consumption and keep your home cool.
Stormproof your home! Install a Whole-Home Surge Protector to protect your devices. Go big and install a Whole-Home Backup Generator, keep your family comfortable and safe, and your daily routines uninterrupted.
Hottest Plumbing Upgrades
Upgrade to low-flow toilets. By upgrading you can save money on your water bill and help conserve water.
Replacing old, leaky pipes with new ones can help prevent water damage and higher utility bills.
Install a Tankless Water Heater! These systems heat water on-demand, providing a constant supply of hot water, and only heats what you need, saving you money!
Hottest HVAC Upgrades
Consider upgrading to a high-efficiency AC unit. These units use less energy and are better for the environment, all while keeping you cool.
Install a Smart Thermostat to save energy and money on your cooling bill. Set it to adjust when you're away from home or sleeping.
Install a Whole-House Air Purifier to eliminate odors, allergens, and pollutants from your indoor air.
Ready to make the hottest home upgrades? Call Mr.  Holland's Home Services today at (866) 992-1717!