Sump Pump Battery Backup | Reasons You Should Consider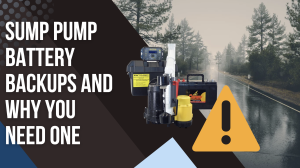 Here in Wisconsin, we know how frequently the weather changes. Especially with spring approaching! We never know if one day it will be 50 degrees and the next snowy. Considering how frequently the weather changes, we need to be sure that our homes our prepared.
What is a sump pump? A sump pump is typically located in the basement of your home to prevent the buildup of water. In spring, the snow melting and the rain that Wisconsin typically gets, we know that sump pumps are important to help alleviate the excess of water.
Why install a battery backup for your sump pump? With the increase in storms during spring in Wisconsin, we know that there is also an increase in power outages. When a power outage occurs or if there are any other issues with the sump pump, the battery backup kicks on to ensure that the pump continues to function. Here are also a few other cases that cause the sump pump to malfunction:
Power outages
Tripped Circuit Breaker or Blown Fuse
Float switch
Overheated pump
Clogged exit pipe
Old Pump
Other than making sure that your sump pump continues to run after it malfunctions, here are some other reasons why you should have a battery backup installed:
Lower Costs: With a battery backup, there is not electricity being used. It will also save you money in the long run if your sump pump does happen to go out, you won't have damage to your home.
Always prepared: With a battery backup system, your home is ready if the sump pump fails to work.
Call Mr. Holland's Home Services today to have a battery backup system installed (262) 677-1037!