Must Know Power Outage Safety Tips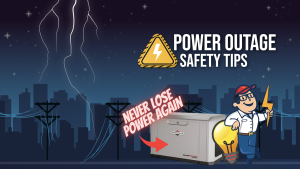 Spring is here which means an increase in power outages due to the storms we experience. No one likes to be without power which is why we want to make sure you are ready when a power outage occurs.  
Here are some power outage safety tips: 
Stay a minimum of 25 feet away from downed power lines  
Report power lines that are down  
Keep your refrigerator and freezer doors closed  
Unplug or turn off your appliances  
Stay out of any flooded basements or rooms  
Use flashlights 
When a power outage occurs in winter:  
Be sure to wear layers of warm clothing  
Let the sun in during the day and close blinds or drapes at night to retain heat  
Use a whole-home generator to power furnace 
We have the best solution to ensure you don't lose power in your home! We offer FREE quotes on whole-home generators! Our customers love them and we think you will love them too! Call Mr. Holland's Home Services today (866) 992-1717 or visit https://www.mrhollandsheatingandair.com/contact-us/.