2023 SEER Efficiency Ratings: What you need to know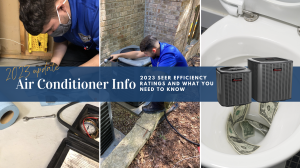 Air-conditioning season is almost here! Luckily with Mother Nature's indecisiveness of what the weather should be here in Wisconsin, we've gotten a few days of sunshine and 80 degree temps already. We're not sure about you, but all of us at Mr. Holland's, are ready for those nice warm days to stay! With summer on it's way, we want to be sure our customers are taken care of and informed about the recent changes before they come at a surprise. SEER (Seasonal Energy Efficiency Ratio) ratings have changed, and we want to make sure that you know what this change is all about.
As of January 1, 2023, SEER will not be the standard anymore. What does this mean? The United States Department of Energy sets the standards for the efficiency of appliances. SEER2 was created to help better the efficiency of new air-conditioners. Newer air-conditioners will be more expensive upfront because the equipment will be more efficient (saving you money long term). There is a limited number of SEER air-conditioners available, which means that once those run out, customers will need to purchase the newer, more efficient, but also more expensive air-conditioners.
Do I need to upgrade my HVAC System? There are many factors to consider when investing in a new A/C, so the answer is not a clear one! If you have noticed signs of a faulty system such as it not functioning normally, making strange noises, or frequently stops working, you may be wasting more of your precious money just trying to keep it going for another season. While you can continue using your existing A/C system until it reaches the end of its useful service life, usually after 10 years, it may do more harm than good! You can also keep it running as efficiently as possible by scheduling maintenance at least once a year. However, these new efficiency standards will apply if you decide to upgrade your A/C equipment.
If you have any further questions or would like to schedule an appointment, call Mr. Holland's Home Services (866) 992-1717 or contact us by visiting https://www.mrhollandsheatingandair.com/contact-us/.